17 min read
10 Best Holdings in QQQ Stock

Ella Vincent : September 7, 2020
Last Updated: June 7, 2022
When investors are choosing between stocks vs. ETF's, QQQ(NASDAQ:QQQ) can be an excellent ETF(exchange-traded fund) choice for new investors. In this TradingSim article, I'll explain why QQQ stock can be a great addition to investors' portfolios. This article will also explain what top 10 holdings in QQQ are the best for investors who want to start early investing.
What is QQQ stock?
The Invesco QQQ is a popular ETF that tracks the NASDAQ 100, which is full of tech growth stocks. If investors want to own many tech stocks at once, they can choose QQQ stock that holds many tech stocks. The QQQ stock has $120 billion in assets.
What is TQQQ stock?
In addition to QQQ stock, investors can buy TQQQ stock (NASDAQ:TQQQ). The leveraged ETF uses debt and derivatives to increase the returns of the NASDAQ 100. When investors use leverage to track the TQQQ, they can use borrowed capital to buy assets to make the price movement impact grow.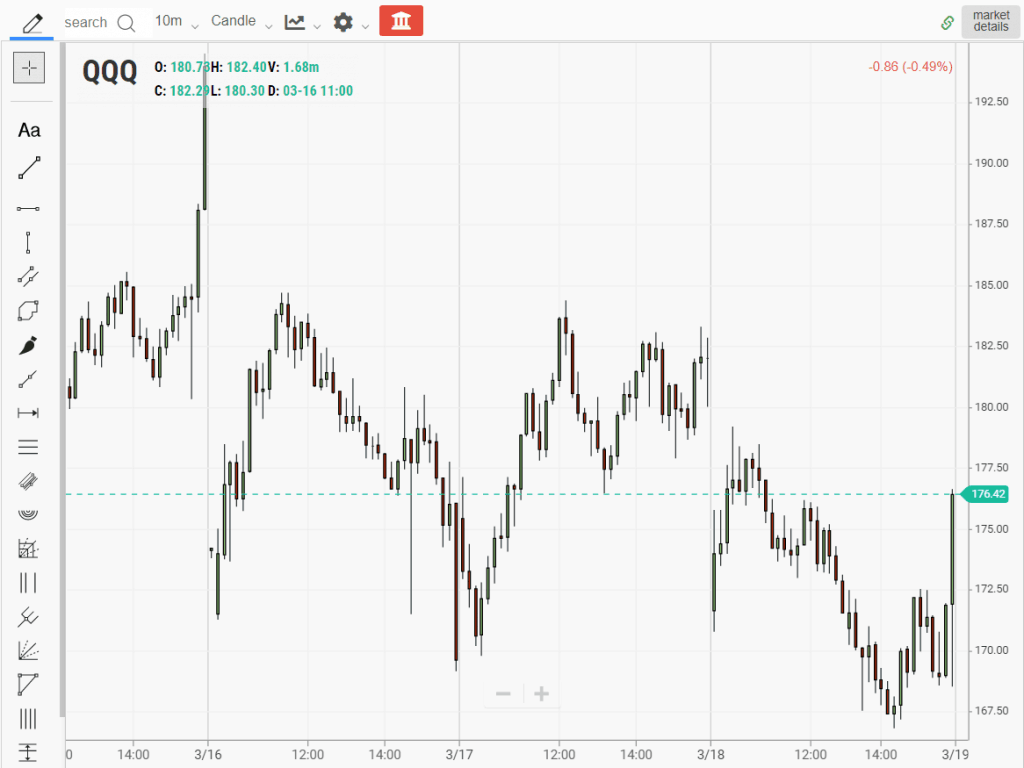 For example, the TQQQ tracks the NASDAQ 100. If the NASDAQ 100 moves up 1%, a regular ETF moves up 1%. However, with a leveraged ETF like TQQQ, a trader can have a 2 or 3% gain if the NASDAQ 100 rises.
Financial expert David Kreinces from ETF Portfolio Management notes the strong performance history of the TQQQ stock.
"The historical performance data strongly favors the Nasdaq-100 3x (TQQQ) for core equity exposure. The unleveraged Nasdaq-100 (QQQ) appears to be the "next-generation S&P 500" and adding moderate leverage can be priceless at times. "In fact, TQQQ returned 80x your money over the past 10-years, while the S&P 500 delivered just under 3x, or 285% in total return," wrote Kriences.
Kriences advocates that investors who want to choose high-risk ETF's can pick TQQQ.
"Past performance can never guarantee future results, but a continuation of the TQQQ growth rate above would turn $500 into $2 million within 19 years. Even if the TQQQ rate of return falls by half, to 28% annualized, a $500 investment could still reach $2 million in 34 years. Given this extraordinary long-term growth potential, we named TQQQ the 'American Dream ETF, " wrote Kreinces.
ProShares advise caution about TQQQ
While Kreinces says investors should buy TQQQ, buying leveraged ETF's can be risky for investors. Even the TQQQ issuer ProShares warns traders that keeping the TQQQ stock too long can increase risk.
"Due to the compounding of daily returns, ProShares' returns over periods other than one day will likely differ in amount and possibly direction from the target return for the same period. These effects may be more pronounced in funds with larger or inverse multiples and in funds with volatile benchmarks," noted ProShares.
While investing in TQQQ can have a huge payoff, traders should still exercise caution when buying the ETF with leverage.
Why should investors buy QQQ stock to track the NASDAQ 100?
If investors are interested in QQQ stock, they're making a good choice since it follows the NASDAQ 100. The NASDAQ 100 has some advantages over the Dow Jones. While the Dow Jones only has 30 stocks, the NASDAQ 100 has three times as many stocks in its index. As the Dow Jones changes the stocks in its index, the NASDAQ 100 doesn't have human input into which stocks are in that index.
In addition to being more rules-based, the NASDAQ 100 is outperforming the Dow Jones. While the Dow Jones had a volatile year, the NASDAQ 100 soared. As Sarah Ponzcek noted in Bloomberg, large-cap tech stocks are a strong buy.
"Last year, when the economy and earnings were booming, the Nasdaq 100 Index put together its best rally in a decade, rising 38%. In 2020, amid a raging recession and plunge in profits, it's doing a little less well: up 37%," wrote Ponzcek.
"Megacap tech firms have emerged as unshakable market leaders. Adored for their sturdy balance sheets and business models that not only hold up in a lock-downs but excel, the Nasdaq 100's performance is making history by the day," added Ponzcek.
Here are 10 of QQQ's top tech holdings that are part of the ETF.
1. Amazon
Amazon (NASDAQ:AMZN) is a QQQ holding that had an incredible last quarter. The e-commerce behemoth reaped $89 billion in profits during the nationwide quarantine. As people stayed home, they ordered from the company's website in record numbers. Because of the massive increase in Amazon's revenue, CEO Jeff Bezos' net worth ballooned to $200 billion. During the Q2 2020 earnings report, Bezos spoke about the results and how the company was contributing to keep workers safe during the COVID-19 pandemic.
"As expected, we spent over $4 billion on incremental COVID-19-related costs in the quarter to help keep employees safe and deliver products to customers in this time of high demand—purchasing personal protective equipment, increasing cleaning of our facilities, following new safety process paths, adding new backup family care benefits, and paying a special thank you bonus of over $500 million to front-line employees and delivery partners," said Bezos.
Bezos tried to quell the controversy about Amazon having temporary, part-time workers by speaking about the full-time employees the company added.
"We've created over 175,000 new jobs since March and are in the process of bringing 125,000 of these employees into regular, full-time positions," said Bezos.
In addition, Bezos touted how much money Amazon pumped in to the economy.
"Third-party sales again grew faster this quarter than Amazon's first-party sales. Lastly, even in this unpredictable time, we injected significant money into the economy this quarter, investing over $9 billion in capital projects, including fulfillment, transportation, and AWS [Amazon Web Services]," said Bezos.
Amazon wants to increase its empire with wearables
With its dominance in e-commerce, Amazon wants to get into the $50 billion fitness tracker market. Amazon is launching its Halo device to sell to consumers. Halo's vice-president, Melissa Cha, spoke about the research that went into developing the Halo wearable.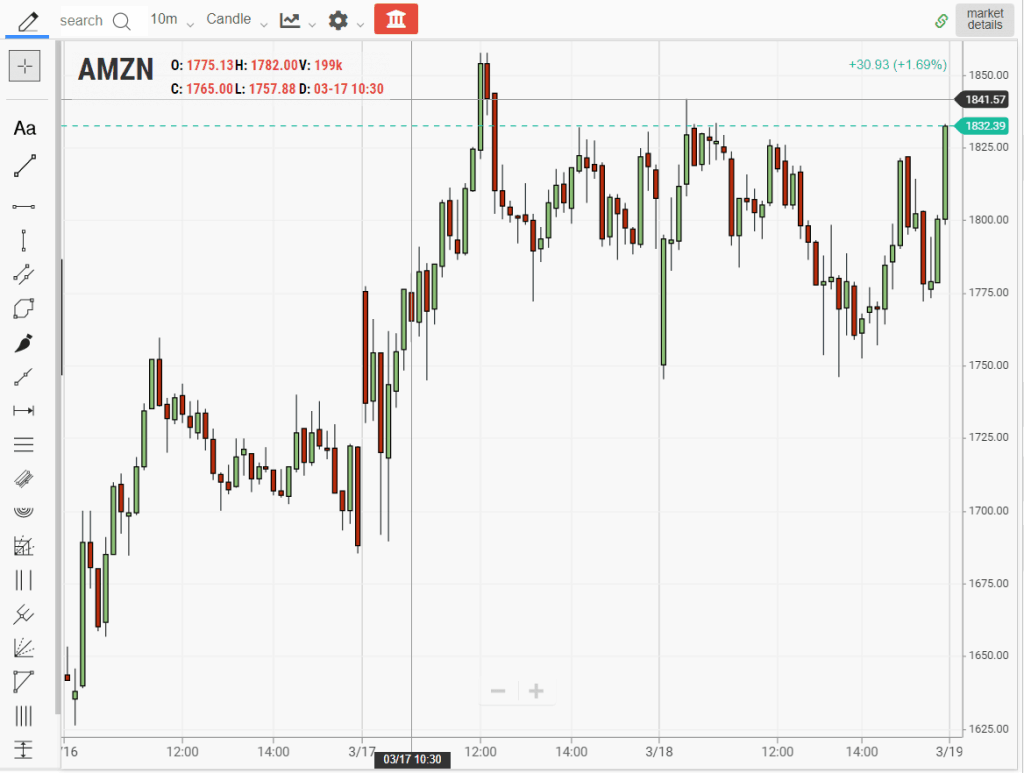 "We did a global search to find the best experts. We found cardiologists, fitness experts, and people who had spent their careers researching sleep and wellness," said Cha.
Analysts say Amazon is a top QQQ holding
Because of its meteoric growth, Daniel Salmon, an analyst at BMO Capital Markets rates Amazon a buy. He said that Amazon's "long-term opportunity is stronger than ever, and we also continue to see outperformance over the next 12 months."
In addition to BMO Capital, Wedbush is bullish on the e-commerce stock. Wedbush analyst Michael Pachter wrote in a note to clients the consumer demand led to a short-term strain on Amazon's supply.
"Consumers are clearly spending more of their time and money shopping online in order to avoid crowds, driving the supply shortages and delivery delays on non-essential items that Amazon has disclosed in [April]," wrote Pachter.
Canaccord's Maria Ripps said the continued increase in online shopping should help Amazon's stock in the long term.
"Over the long-term, we[Canaccord] anticipate that the COVID-19 pandemic will accelerate existing eCommerce trends, benefitting platforms such as Amazon," said Ripps.
Ripps also sees growth from its Amazon Web Services.
"For AWS, we [Conaccord] see revenue growing 36% year-over-year (vs. 34% in Q4) as demand for cloud computing also spiked in Q1 due to COVID-19, leading to pricing power that should drive AWS operating margin back to 27% (vs. ~26% in full year 2019)," said Ripps.
Amazon is a high-performing part of QQQ's stock holdings.
2. Google
Google parent Alphabet (NASDAQ:GOOG) is another profitable QQQ holding. Google's Q2 2020 earnings slightly dipped from last year with $38 billion in revenue. However, Google is still performing well overall. CEO Sundar Pichai spoke about how more people used Google services more during the quarantine.
"We're working to help people, businesses and communities in these uncertain times. As people increasingly turn to online services, our platforms — from Cloud to Google Play to YouTube — are helping our partners provide important services and support their businesses," said Pichai.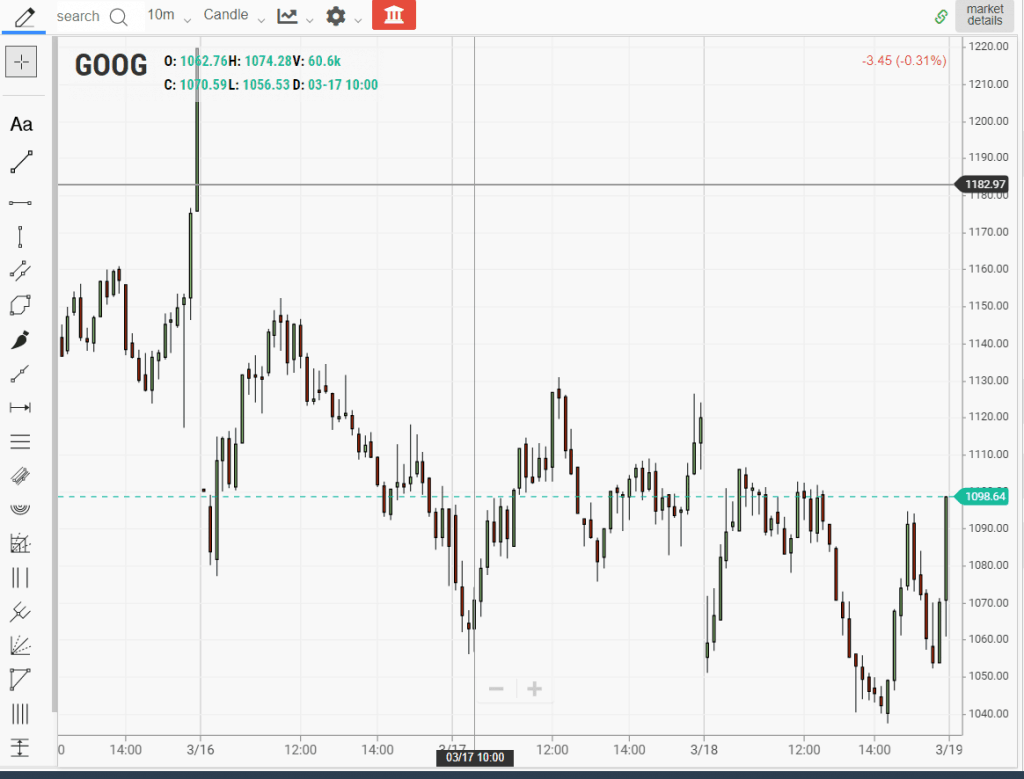 Ruth Porat, Google's chief financial officer, also spoke about Google's success with cloud technology.
"In the second quarter our total revenues were $38.3B, driven by gradual improvement in our ads business and strong growth in Google Cloud and Other Revenues. We continue to navigate through a difficult global economic environment," said Porat.
Google a buy to some analysts
Financial expert Maria Ripps thinks that despite a decline in ad revenue, Ripps says the stock is a buy.
"Somewhat offsetting these advertising trends, we also see COVID-19 likely driving heightened demand for cloud computing as some online businesses see a surge in demand from increased time spent at home while others are forced to migrate systems and employees to remote operations," said Ripps.
Google is a strong holding in QQQ's ETF.
3. Apple
In addition to Google, Apple (NASDAQ:AAPL) is a QQQ top holding. The tech giant's Q3 2020 earnings report surpassed expectations with $59.7 billion in revenue.
CEO Tim Cook spoke about the company's results.
"Our June quarter performance was strong evidence of Apple's ability to innovate and execute during challenging times. The record business results drove our active installed base of devices to an all-time high in all of our geographic segments and all major product categories. We grew EPS by 18% and generated operating cash flow of $16.3 billion during the quarter, a June quarter record for both metrics," said Cook.
Cook also spoke about Apple's efforts to contribute its profits to social change measures.
"This is a challenging moment for our communities, and, from Apple's new $100 million Racial Equity and Justice Initiative to a new commitment to be carbon neutral by 2030, we're living the principle that what we make and do should create opportunity and leave the world better than we found it," said Cook.
Apple stock split may help QQQ stock grow
Apple recently announced a four-for-one stock split to make the stock more affordable to investors.
"The Board of Directors has also approved a four-for-one stock split to make the stock more accessible to a broader base of investors. Each Apple shareholder of record at the close of business on August 24, 2020, will receive three additional shares for every share held on the record date, and trading will begin on a split-adjusted basis on August 31, 2020," said Apple in a statement.
Morgan Stanley's Katy Hubert spoke about the Apple stock split.
"In the 3 and 6 months following past stock split, Apple shares have also outperformed the S&P 500, albeit by a lesser degree – by a median of 700bps and 610bps, respectively (1). The most significant post-split outperformance came in C2H14 after the 7-for-1 stock split (2), although this period also coincided with strong outperformance of the iPhone 6," said Hubert.
Hubert also noted that the stock split may not be as influential on Apple stock as a future iPhone. However, she sees that the stock split will help the company's stock.
"Nevertheless, we don't believe the stock-split will be a "sell the news" type of event among institutional investors given the increasing expectations for the fall iPhone launch, and therefore the increase in retail demand following Monday's stock split is more likely to be a positive catalyst for Apple shares, in our view," said Hubert.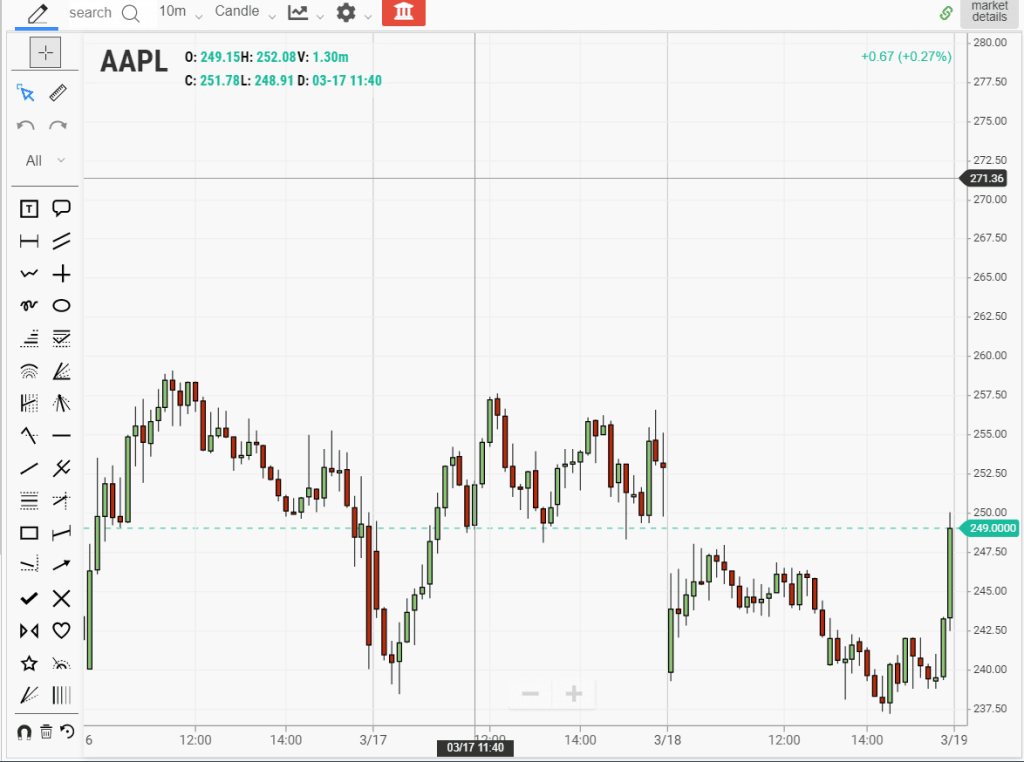 "Following Apple's 4-for-1 stock split, we'd expect near-term retail demand for Apple shares to increase, especially given the current market environment (retail traders have accounted for up to 25% of stock market activity during the pandemic vs. 10% in 2019, although we'd note that retail investors have already been able to buy fractional shares, so the overall retail impact may not be as overwhelming as some perceive," added Hubert.
Apple's stock soared 30% after the stock split announcement. In QQQ stock, Apple is a valuable holding.
4. Tesla a key QQQ stock holding
Tesla (NASDAQ:TSLA) is a valuable holding in QQQ stock. The company has become the most valuable car corporation worth $209 billion.
Tesla has a strong Q2 2020 earnings report
In its latest revenue report, CEO Elon Musk spoke about the company's $6 billion in revenue.
"First of all, I'd like to thank the Tesla team for exceptional execution in the second quarter despite tremendous difficulties. They've done an incredible job, and it's an honor to work with such a great team. I mean, there were so many challenges, too numerous to name, but they got it done and just what a great group to work with," said Musk.
"Like I said, it's just an honor to work with such a great team. And as a result, we were able to achieve our fourth consecutive profitable quarter. And although the automotive industry was down about 30% year over year in the first half of the year, we managed to grow deliveries in the first half of the year. So despite that massive industry decline, we actually went up, " added Musk.
Musk also touted Tesla's positive cash flow.
"On cash flows, our cash balance increased to our highest level yet of $8.6 billion, which included free cash flows of over $400 million. This is a strong result on its own despite an increase in capital expenses associated with Shanghai and Berlin, as well as movements in working capital," said Musk.
Tesla stock split boosts shares
Similar to Apple, Tesla is also enacting a five-for-one stock split to make shares easier for investors to buy. Since the stock announcement, Tesla stock skyrocketed 76%.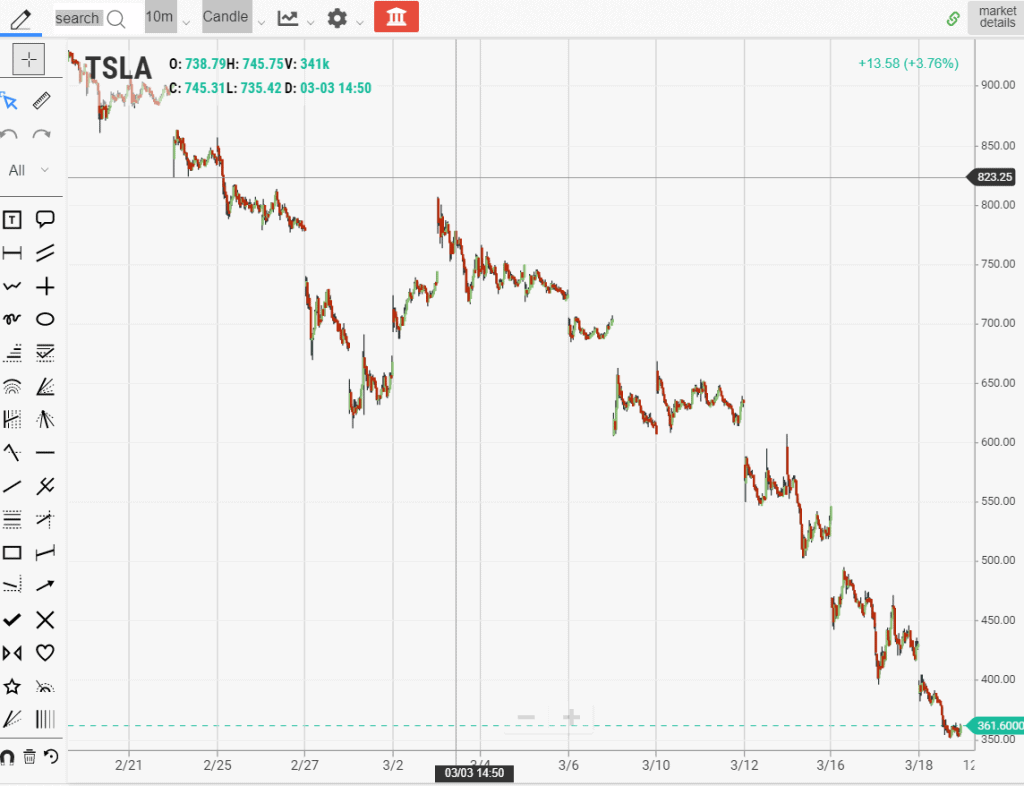 Some analysts say stock splits help QQQ stock
Wedbush's Dan Ives believes the split will help Tesla as a QQQ holding.
"We believe the stock split decision was a smart move by Tesla and its board, given the parabolic move in shares over the past six months, with another stock split by Apple and likely other larger tech stalwarts will follow this same path over the coming months, in our opinion," Ives wrote in a note to clients.
He added that Tesla and Apple shares should continue to rise after the stock splits.
"I think this was a smart move by the companies and the board[s] and ultimately I think there's going to be more stalwarts that follow. And I think right now, they're just in a position of strength if you see what's happening in terms of the market, of course on the EV[electric vehicle] side with Tesla and then Apple going into a supercycle. And this was the smart move at the right time in terms of the stock split and I view it as putting more sort of gasoline in the tank in terms of these stocks moving higher."
JJ Kinahan is the chief market strategist at TD Ameritrade. He believes that the stock splits will lead to more demand for Tesla and Apple stock.
"I do think it will add to some increased demand. It's become a lot more affordable for people overall," said Kinahan.
Some experts think a stock split will hurt QQQ stock
While some analysts are bullish on the stock splits, some are wary of the stock splits. Sarat Sethi, the managing partner at Douglas C. Lane, thinks that the stock split will hurt the long-term investors in QQQ stock.
"I think the idea that you can have more pieces of a pie for the same pie is concerning, especially for long-term investors and I think the ability for some of the retail investors to get in there and trade. So, that's kind of making me a little wary when you look at how fast some of these stocks are moving when they're announcing splits and some of the stocks that are just moving in these huge ranges even though the broader market's not moving", said Sethi.
Leon Cooperman is the Omega Family Office chairman and CEO. He doesn't think that the stock split will help QQQ stock.
"Everybody understands that splits don't create value. My dad once told me if he gave me five singles for a $5 bill, I'm no better off. … Apple's up 30% with the S&P up 6% and everybody's talking about the split. The splits don't create any value," said Cooperman.
Roger McNamee, co-founder of Elevation Partners, is also bearish on tech stocks in the QQQ ETF.
"I look at the market. I look at the stock split. And you never know when the momentum's going to end, and I'm not trying to make a call on that issue. I'm just saying that, for me, this is enough. It's been a great ride. And it's not just Apple that I've been selling. I'm looking broadly through my tech portfolio — and I own a bunch of names — and I have been reducing positions across the board simply because I want to reduce the level of risk I'm taking in the market," said McNamee.
5. Facebook
Facebook a profitable holding in QQQ stock
QQQ holdingFacebook (NASDAQ:FB) is a profitable QQQ holding. The social media giant had a healthy Q2 2020 earnings report. Chief financial officer Dave Wehner spoke about the company's results.
"Q2 total revenue was $18.7 billion, up 11% or 12% on a constant-currency basis," said Wehner.
Wehner noted that Facebook's ad revenue increased as well.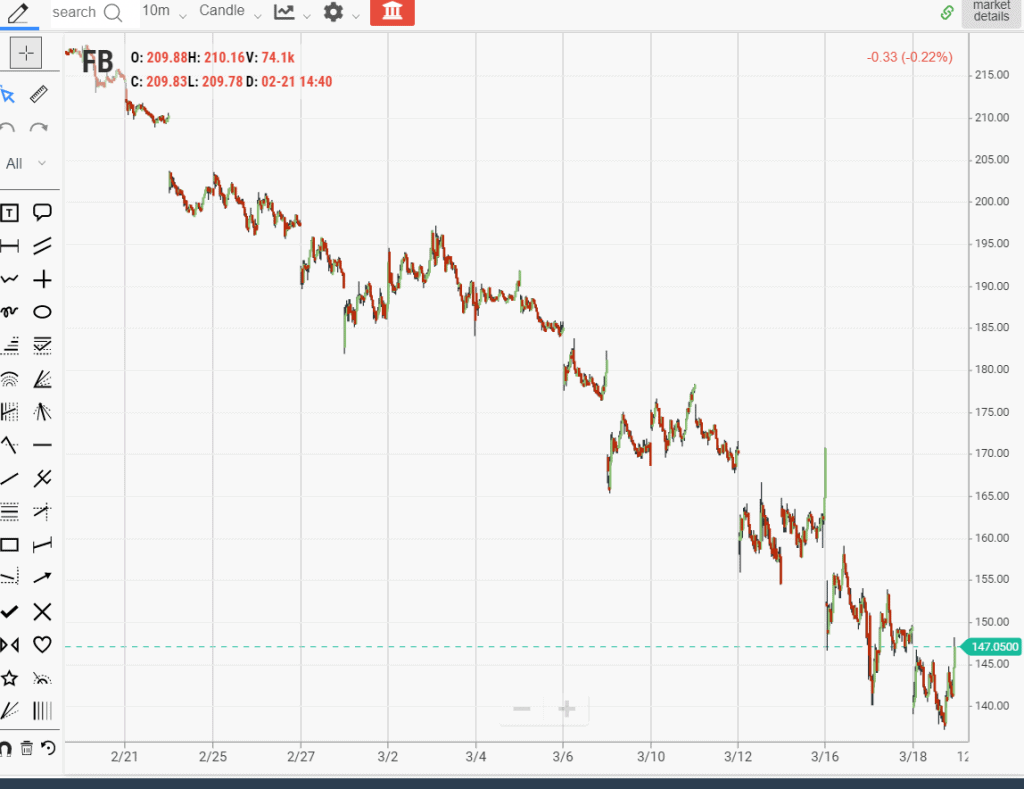 "Had foreign exchange rates remained constant with Q2 of last year, total revenue would have been $297 million higher. Q2 ad revenue was $18.3 billion, up 10% or 12% on a constant-currency basis," said Wehner.
Maria Ripps said Facebook could benefit from people meeting more online and from "virtually all social interactions have been moved online during the pandemic."
6. Netflix
Netflix (NASDAQ:NFLX) is a top holding in QQQ. The streaming company had an impressive Q2 2020, with $6.15 billion in revenue. During the quarantine, many people stayed home and watched the thousands of shows available on the streaming service, like Tiger King, Self-Made, and Love is Blind. After the last earnings report, chief financial officer Spence Neumann spoke about the positive results.
"We just added 10 million members, which is the largest growth we've ever had in a second quarter. And if you look at the — so we kind of look at the totality across the Q2 and Q3 period", said Neumann.
Financial experts bullish on Netflix stock
Because of Netflix's strong subscriber growth, Jefferies analyst Alex Giaimo said Netflix is a key QQQ holding.
"While the soft third-quarter outlook may put the stock in the penalty box near-term, there is no change to our positive long-term thesis. We view Netflix as a consistent high double-digit growth story with sizable margin expansion over time," said Giaimo.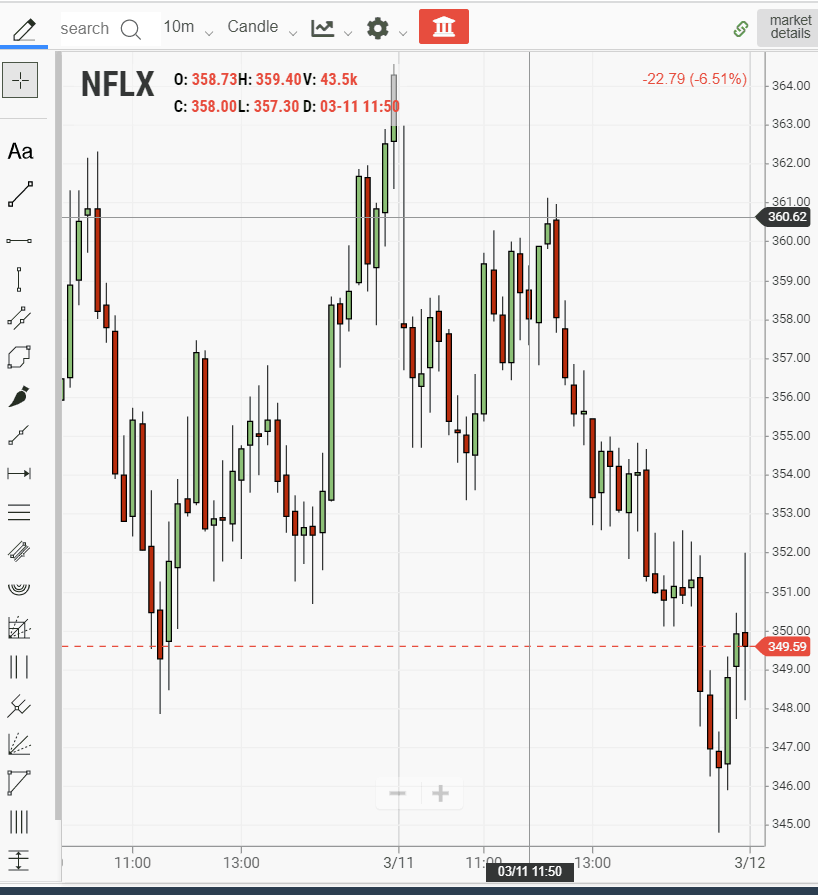 In addition to Jefferies, Jeff Sica is a financial advisor that is bullish on Netflix stock. He thanks Netflix has an advantage because of its dominance in online content. The streaming service is often the first choice for producers of programming that reaches a wide audience.
"The real story with Netflix is that many producers always want Netflix to be their first choice of distribution. This is why they will continue to have the advantage in content," said Sica.
Netflix is a tech stock that helps make QQQ stock a top pick for investors.
7. Zoom
Videoconferencing website Zoom (NASDAQ:ZM) had a spectacular Q2 with revenue of $663 million. That number surpassed the expected $500 million Wall Street expected. During the worldwide quarantine, millions of people used Zoom to work and communicate with each other. Zoom's chief financial officer Kelly Steckleberg spoke about the results.
"Q2 was a remarkable quarter for Zoom as we continued to rapidly grow and invest in our business to meet the demands of our customers and communities. Let me start by reviewing our financial results for Q2, then discuss our outlook for Q3 and the increased view of our full-year FY '21. Total revenue grew 355% year over year to $664 million in Q2," said Steckleberg.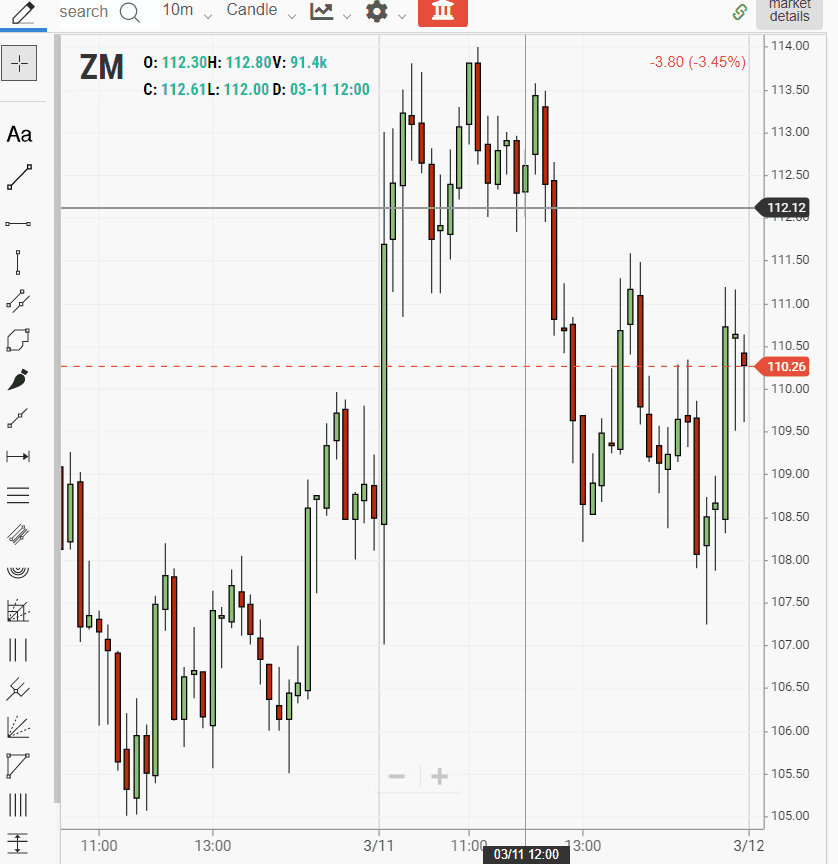 Analysts rate Zoom a buy for investors
Zoom's stock is part of a reason that QQQ stock is a top pick for investors. Walravens is bullish on the QQQ stock holding.
"I have been doing this for 20 years, and I have never seen a story like this one. And it shows you the power of a really well-run company with a good mission that has exactly the service everyone needs in a crisis," said Walravens.
Morgan Stanley also rates Zoom a buy. Before the company's earnings report, the firm expected Zoom to surpass Wall Street expectations.
"Morgan Stanley analysts said ahead of the report that buy-side analysts expected Zoom to beat its own forecast by about 30%", said the firm.
8. Nvidia
As a tech holding in QQQ stock, Nvidia (NASDAQ:NVDA) is a stock that is performing well in the ETF. The chipmaker had an impressive Q2 2020 earnings report. Founder Jensen Huang spoke about the company's record $3.8 million revenue.
"Adoption of NVIDIA computing is accelerating, driving record revenue and exceptional growth. Growth in GeForce gaming accelerated as gamers increasingly immerse themselves in realistic virtual worlds created by NVIDIA RTX ray tracing and AI," said Huang.
The company noted that despite COVID-19, its next-generation gaming cards will help Nvidia's profits. During the pandemic, the gaming industry has soared as many people stay home. Nvidia provides many of the gaming cards for popular games like Fortnite.
"Despite the pandemic's impact on our professional visualization and automotive platforms, we are well-positioned to grow, as gaming, AI, cloud computing and autonomous machines drive the next industrial revolution around the world," said Huang.
Analysts bullish on Nvidia stock
Wells Fargo analyst Aaron Rakers noted that the Ampere graphics processing units will have a price increase. That upgrade can lead to Nvidia stock growth.
"The new Ampere lineup carries the same price points as the prior Turing GeForce line-up w/ GeForce RTX 3080 priced at $699. This compares to some reports pointing to a potential like-to-like increase; note that prior gen Turing (2018) and Pascal (2016) had $100 and $50 price increases, respectively," said Rakers.
Mizuho analyst Vijay Rakesh also thinks the graphics processing units will help boost Nvidia stock.
"We believe the combination of a strong 3D rendering GPU platform boosted by RTX and AI drive a step up in its value proposition for developers and gamers and create a deeper moat versus the competition for NVDA," said Rakesh.
Cowen also says Nvidia key part of QQQ stock
Cowen analyst Matthew Ramsay also thinks Nvidia's chips for gaming devices make the stock a buy.
"We believe Nvidia is pricing the cards aggressively to ensure it maintains its dominant gaming ecosystem leadership and wallet-share given upcoming new GPU launches from Advanced Micro Devices Inc.'s Big Navi line, and new Sony/Xbox game consoles," said Ramsey.
"Coupled with strong underlying gaming demand driven by COVID-19, we do expect the 3080 to represent a compelling upgrade for consumers, and expect that product cycle to drive gaming growth for the next several quarters," added Ramsey.
9. Microsoft
Microsoft (NASDAQ:MSFT) is a top tech holding that is in QQQ stock. The tech giant had a profitable Q2 2020. With many people home quarantined, many people used Microsoft's cloud technology. Chief financial officer Amy Hood touted the results.
"This quarter, revenue was $36.9 billion, up 14% and 15% in constant currency. Gross margin dollars increased 22% and 25% in constant currency. Operating income increased 35% and 39% in constant currency, and earnings per share was $1.51, increasing 37% and 41% in constant currency", said Hood.
"Revenue was $11.9 billion, increasing 27% and 28% in constant currency, ahead of expectations, driven by continued customer demand for our hybrid offerings," said Hood.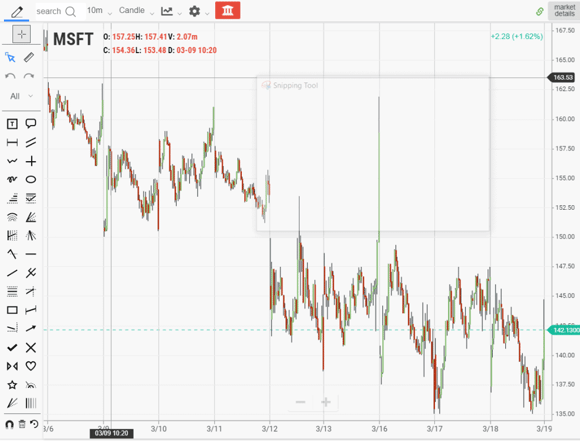 Microsoft also spoke about the company's cloud growth with its Azure division.
"On a significant base, server products and cloud services revenue increased 30% and 32% in constant currency. Azure revenue grew 62% and 64% in constant currency, driven by another quarter of strong growth in our consumption-based business across all customer segments," said Hood.
Experts bullish on Microsoft stock
Because of Microsoft's Q2 2020 impressive earnings report, Amana Mutual Funds says the stock will continue to grow.
"Microsoft has done an excellent job building its Azure cloud services business, while we believe a strong period of semiconductor demand will arrive in the new decade supporting Microchip and Taiwan Semiconductor. Whether the rally starts in 2020 or 2021 remains to be seen but recent signs have been positive," said Amana.
Microsoft's Azure cloud technology has also made the company's stock a buy to other financial analysts.
Wedbush's Dan Ives said that Microsoft "has seen robust cloud deal activity around Azure in the field during the June quarter with modest cloud upside expected, as this current work from home environment is further catalyzing more enterprises to make the strategic cloud shift with Microsoft across the board."
As more customers use Microsoft Teams and other products to work from home and communicate, Microsoft is a solid part of QQQ stock.
10. Adobe
In addition to Microsoft, Adobe (NASDAQ:ADBE) is a tech holding that's boosting QQQ stock. Adobe had a strong Q2 2020, with more customers using the company's Photoshop and Document Cloud e-signing technology. The software company's CEO Shantanu Narayen touted the company's robust results.
"Adobe drove strong Q2 performance across Adobe Creative Cloud, Adobe Document Cloud, and Adobe Experience Cloud. We delivered $3.13 billion in revenue in Q2, representing 14% year-over-year growth. GAAP earnings per share for the quarter was $2.27, and non-GAAP earnings per share was $2.45," said Narayen.
"We continued to drive strong adoption for Adobe Sign, our cloud-based electronic signature solution, with usage increasing 175% since the start of our fiscal year. Mobile usage exploded with Acrobat Reader installations increasing 43% year-over-year and Adobe Scan installations, up 66% year-over-year," added Narayen.
Experts say Adobe is vital part of QQQ stock
With Adobe's strong last earnings report, Amana Mutual Funds say investors should add QQQ stock to their portfolio.
"Digital media leader Adobe has also appeared as a top contributor over multiple years. Its appreciation wasn't as great but it's a large position, leading to the strong contribution," said Amana Mutual Funds.
Qualivian Investment Partners is also bullish on Adobe as part of QQQ stock. Despite Adobe's diminished sales in its Digital Experience division, but still is a top holding in the QQQ ETF.
"ADBE Reported strong Q2 results in the Digital Media and Document Cloud segments. The third segment, Digital Experience, was negatively impacted by COVID which led to a decline in advertising and delays in booking and consulting services for enterprises. COVID also negatively impacted the small and medium-size business segment. The business model and market position of Adobe remains strong and we have confidence in it as a long-term holding," said Qualivian Investment Partners.
Adobe's 14% growth from a year ago shows that many people are dependent on tech to navigate working from home during the COVID-19 pandemic.
QQQ stock a good addition to investors' portfolios
With the most profitable tech holdings in the world, QQQ stock would be a strong choice for any trader or investor. QQQ is an ETF that is a one-stop shop for the best tech stocks on the NASDAQ. With TradingSim's charts and blogs, traders can monitor QQQ and practice trading before diving into one of the most prominent ETFs in the stock market.